Short Clip Videos - Slavery
Origins of Slaves in the USA
This website describes the Montgomery Buss Boycott, as well as Rosa Parks, who is often referred as the catalyst for Civil Rights Movement
Montgomery Boycott Videos
This is a interview of Rosa Parks, describing her version of events on her refusal to leave a bus, ultimately instigating the Montgomery Bus Boycott
VCE History Slavery Introduction PowToon
In preparation for our study of Slavery in America, you are to watch the following PowToon.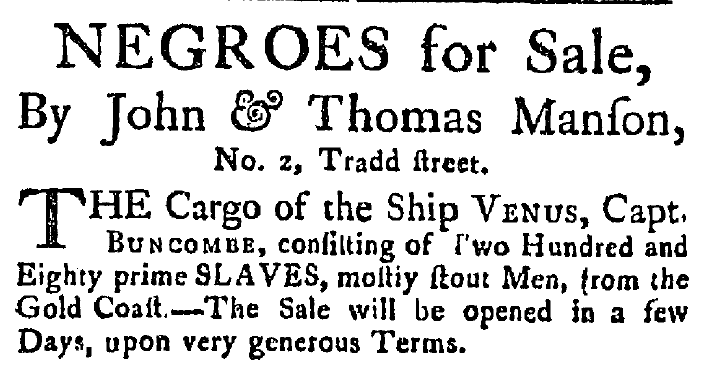 This source is an example of an Newspaper Advertisments selling African Slaves in America.
This source is the selling of an African American man with his family. Most likely being sold by a plantation to another. This source will support the idea that many slaves were able to stay as a family and not always be split.
This source is advertising a shipment of slaves to America. Note the concerns of Small Pox and the fineprint on the bottom of the source.
To see the annotated version of this map at the following website: Animated Map
The following website has a map of "The Spread of Slavery" from 1790-1860, this is also an animated map.
KKK Uncle Sam's Curse Lyrics:
Now, I'm listening you communists, niggaz and jews
Tell all your bodies to spread the news
Cause their judgement will soon been alight
As the lord in this wisdom looks down from height
Well, it's better be lost my mixing the races
We want beautiful babies, not ones with brown faces
Never, never, never, never, I say
Cause the Ku Klucks Klan is here to say:
Never, never, never, never, I say
Cause the Ku Klucks Klan is here to say: